50% off WiTouch Pro TENS Units • Save 20% on Gel Pad Refills with Subscribe & Save •
50% off WiTouch Pro TENS Units • Save 20% on Gel Pad Refills with Subscribe & Save •
50% off WiTouch Pro TENS Units • Save 20% on Gel Pad Refills with Subscribe & Save •
50% off WiTouch Pro TENS Units • Save 20% on Gel Pad Refills with Subscribe & Save •
50% off WiTouch Pro TENS Units • Save 20% on Gel Pad Refills with Subscribe & Save •
50% off WiTouch Pro TENS Units • Save 20% on Gel Pad Refills with Subscribe & Save •
50% off WiTouch Pro TENS Units • Save 20% on Gel Pad Refills with Subscribe & Save •
50% off WiTouch Pro TENS Units • Save 20% on Gel Pad Refills with Subscribe & Save •
50% off WiTouch Pro TENS Units • Save 20% on Gel Pad Refills with Subscribe & Save •
50% off WiTouch Pro TENS Units • Save 20% on Gel Pad Refills with Subscribe & Save •
50% off WiTouch Pro TENS Units • Save 20% on Gel Pad Refills with Subscribe & Save •
50% off WiTouch Pro TENS Units • Save 20% on Gel Pad Refills with Subscribe & Save •
50% off WiTouch Pro TENS Units • Save 20% on Gel Pad Refills with Subscribe & Save •
50% off WiTouch Pro TENS Units • Save 20% on Gel Pad Refills with Subscribe & Save •
50% off WiTouch Pro TENS Units • Save 20% on Gel Pad Refills with Subscribe & Save •
50% off WiTouch Pro TENS Units • Save 20% on Gel Pad Refills with Subscribe & Save •
50% off WiTouch Pro TENS Units • Save 20% on Gel Pad Refills with Subscribe & Save •
50% off WiTouch Pro TENS Units • Save 20% on Gel Pad Refills with Subscribe & Save •
50% off WiTouch Pro TENS Units • Save 20% on Gel Pad Refills with Subscribe & Save •
50% off WiTouch Pro TENS Units • Save 20% on Gel Pad Refills with Subscribe & Save •
50% off WiTouch Pro TENS Units • Save 20% on Gel Pad Refills with Subscribe & Save •
50% off WiTouch Pro TENS Units • Save 20% on Gel Pad Refills with Subscribe & Save •
50% off WiTouch Pro TENS Units • Save 20% on Gel Pad Refills with Subscribe & Save •
50% off WiTouch Pro TENS Units • Save 20% on Gel Pad Refills with Subscribe & Save •
50% off WiTouch Pro TENS Units • Save 20% on Gel Pad Refills with Subscribe & Save •
50% off WiTouch Pro TENS Units • Save 20% on Gel Pad Refills with Subscribe & Save •
50% off WiTouch Pro TENS Units • Save 20% on Gel Pad Refills with Subscribe & Save •
50% off WiTouch Pro TENS Units • Save 20% on Gel Pad Refills with Subscribe & Save •
50% off WiTouch Pro TENS Units • Save 20% on Gel Pad Refills with Subscribe & Save •
50% off WiTouch Pro TENS Units • Save 20% on Gel Pad Refills with Subscribe & Save •
50% off WiTouch Pro TENS Units • Save 20% on Gel Pad Refills with Subscribe & Save •
50% off WiTouch Pro TENS Units • Save 20% on Gel Pad Refills with Subscribe & Save •
50% off WiTouch Pro TENS Units • Save 20% on Gel Pad Refills with Subscribe & Save •
50% off WiTouch Pro TENS Units • Save 20% on Gel Pad Refills with Subscribe & Save •
50% off WiTouch Pro TENS Units • Save 20% on Gel Pad Refills with Subscribe & Save •
50% off WiTouch Pro TENS Units • Save 20% on Gel Pad Refills with Subscribe & Save •
50% off WiTouch Pro TENS Units • Save 20% on Gel Pad Refills with Subscribe & Save •
50% off WiTouch Pro TENS Units • Save 20% on Gel Pad Refills with Subscribe & Save •
50% off WiTouch Pro TENS Units • Save 20% on Gel Pad Refills with Subscribe & Save •
50% off WiTouch Pro TENS Units • Save 20% on Gel Pad Refills with Subscribe & Save •
50% off WiTouch Pro TENS Units • Save 20% on Gel Pad Refills with Subscribe & Save •
50% off WiTouch Pro TENS Units • Save 20% on Gel Pad Refills with Subscribe & Save •
50% off WiTouch Pro TENS Units • Save 20% on Gel Pad Refills with Subscribe & Save •
50% off WiTouch Pro TENS Units • Save 20% on Gel Pad Refills with Subscribe & Save •
50% off WiTouch Pro TENS Units • Save 20% on Gel Pad Refills with Subscribe & Save •
50% off WiTouch Pro TENS Units • Save 20% on Gel Pad Refills with Subscribe & Save •
50% off WiTouch Pro TENS Units • Save 20% on Gel Pad Refills with Subscribe & Save •
50% off WiTouch Pro TENS Units • Save 20% on Gel Pad Refills with Subscribe & Save •
50% off WiTouch Pro TENS Units • Save 20% on Gel Pad Refills with Subscribe & Save •
50% off WiTouch Pro TENS Units • Save 20% on Gel Pad Refills with Subscribe & Save •
50% off WiTouch Pro TENS Units • Save 20% on Gel Pad Refills with Subscribe & Save •
50% off WiTouch Pro TENS Units • Save 20% on Gel Pad Refills with Subscribe & Save •
50% off WiTouch Pro TENS Units • Save 20% on Gel Pad Refills with Subscribe & Save •
50% off WiTouch Pro TENS Units • Save 20% on Gel Pad Refills with Subscribe & Save •
50% off WiTouch Pro TENS Units • Save 20% on Gel Pad Refills with Subscribe & Save •
50% off WiTouch Pro TENS Units • Save 20% on Gel Pad Refills with Subscribe & Save •
50% off WiTouch Pro TENS Units • Save 20% on Gel Pad Refills with Subscribe & Save •
50% off WiTouch Pro TENS Units • Save 20% on Gel Pad Refills with Subscribe & Save •
50% off WiTouch Pro TENS Units • Save 20% on Gel Pad Refills with Subscribe & Save •
50% off WiTouch Pro TENS Units • Save 20% on Gel Pad Refills with Subscribe & Save •
50% off WiTouch Pro TENS Units • Save 20% on Gel Pad Refills with Subscribe & Save •
50% off WiTouch Pro TENS Units • Save 20% on Gel Pad Refills with Subscribe & Save •
50% off WiTouch Pro TENS Units • Save 20% on Gel Pad Refills with Subscribe & Save •
50% off WiTouch Pro TENS Units • Save 20% on Gel Pad Refills with Subscribe & Save •
50% off WiTouch Pro TENS Units • Save 20% on Gel Pad Refills with Subscribe & Save •
50% off WiTouch Pro TENS Units • Save 20% on Gel Pad Refills with Subscribe & Save •
50% off WiTouch Pro TENS Units • Save 20% on Gel Pad Refills with Subscribe & Save •
50% off WiTouch Pro TENS Units • Save 20% on Gel Pad Refills with Subscribe & Save •
50% off WiTouch Pro TENS Units • Save 20% on Gel Pad Refills with Subscribe & Save •
50% off WiTouch Pro TENS Units • Save 20% on Gel Pad Refills with Subscribe & Save •
50% off WiTouch Pro TENS Units • Save 20% on Gel Pad Refills with Subscribe & Save •
50% off WiTouch Pro TENS Units • Save 20% on Gel Pad Refills with Subscribe & Save •
50% off WiTouch Pro TENS Units • Save 20% on Gel Pad Refills with Subscribe & Save •
50% off WiTouch Pro TENS Units • Save 20% on Gel Pad Refills with Subscribe & Save •
50% off WiTouch Pro TENS Units • Save 20% on Gel Pad Refills with Subscribe & Save •
50% off WiTouch Pro TENS Units • Save 20% on Gel Pad Refills with Subscribe & Save •
50% off WiTouch Pro TENS Units • Save 20% on Gel Pad Refills with Subscribe & Save •
50% off WiTouch Pro TENS Units • Save 20% on Gel Pad Refills with Subscribe & Save •
50% off WiTouch Pro TENS Units • Save 20% on Gel Pad Refills with Subscribe & Save •
50% off WiTouch Pro TENS Units • Save 20% on Gel Pad Refills with Subscribe & Save •
50% off WiTouch Pro TENS Units • Save 20% on Gel Pad Refills with Subscribe & Save •
50% off WiTouch Pro TENS Units • Save 20% on Gel Pad Refills with Subscribe & Save •
50% off WiTouch Pro TENS Units • Save 20% on Gel Pad Refills with Subscribe & Save •
50% off WiTouch Pro TENS Units • Save 20% on Gel Pad Refills with Subscribe & Save •
50% off WiTouch Pro TENS Units • Save 20% on Gel Pad Refills with Subscribe & Save •
50% off WiTouch Pro TENS Units • Save 20% on Gel Pad Refills with Subscribe & Save •
50% off WiTouch Pro TENS Units • Save 20% on Gel Pad Refills with Subscribe & Save •
50% off WiTouch Pro TENS Units • Save 20% on Gel Pad Refills with Subscribe & Save •
50% off WiTouch Pro TENS Units • Save 20% on Gel Pad Refills with Subscribe & Save •
50% off WiTouch Pro TENS Units • Save 20% on Gel Pad Refills with Subscribe & Save •
50% off WiTouch Pro TENS Units • Save 20% on Gel Pad Refills with Subscribe & Save •
50% off WiTouch Pro TENS Units • Save 20% on Gel Pad Refills with Subscribe & Save •
50% off WiTouch Pro TENS Units • Save 20% on Gel Pad Refills with Subscribe & Save •
50% off WiTouch Pro TENS Units • Save 20% on Gel Pad Refills with Subscribe & Save •
50% off WiTouch Pro TENS Units • Save 20% on Gel Pad Refills with Subscribe & Save •
50% off WiTouch Pro TENS Units • Save 20% on Gel Pad Refills with Subscribe & Save •
50% off WiTouch Pro TENS Units • Save 20% on Gel Pad Refills with Subscribe & Save •
50% off WiTouch Pro TENS Units • Save 20% on Gel Pad Refills with Subscribe & Save •
50% off WiTouch Pro TENS Units • Save 20% on Gel Pad Refills with Subscribe & Save •
50% off WiTouch Pro TENS Units • Save 20% on Gel Pad Refills with Subscribe & Save •
50% off WiTouch Pro TENS Units • Save 20% on Gel Pad Refills with Subscribe & Save •
50% off WiTouch Pro TENS Units • Save 20% on Gel Pad Refills with Subscribe & Save •
50% off WiTouch Pro TENS Units • Save 20% on Gel Pad Refills with Subscribe & Save •
50% off WiTouch Pro TENS Units • Save 20% on Gel Pad Refills with Subscribe & Save •
50% off WiTouch Pro TENS Units • Save 20% on Gel Pad Refills with Subscribe & Save •
50% off WiTouch Pro TENS Units • Save 20% on Gel Pad Refills with Subscribe & Save •
50% off WiTouch Pro TENS Units • Save 20% on Gel Pad Refills with Subscribe & Save •
50% off WiTouch Pro TENS Units • Save 20% on Gel Pad Refills with Subscribe & Save •
50% off WiTouch Pro TENS Units • Save 20% on Gel Pad Refills with Subscribe & Save •
50% off WiTouch Pro TENS Units • Save 20% on Gel Pad Refills with Subscribe & Save •
50% off WiTouch Pro TENS Units • Save 20% on Gel Pad Refills with Subscribe & Save •
50% off WiTouch Pro TENS Units • Save 20% on Gel Pad Refills with Subscribe & Save •
50% off WiTouch Pro TENS Units • Save 20% on Gel Pad Refills with Subscribe & Save •
50% off WiTouch Pro TENS Units • Save 20% on Gel Pad Refills with Subscribe & Save •
50% off WiTouch Pro TENS Units • Save 20% on Gel Pad Refills with Subscribe & Save •
50% off WiTouch Pro TENS Units • Save 20% on Gel Pad Refills with Subscribe & Save •
50% off WiTouch Pro TENS Units • Save 20% on Gel Pad Refills with Subscribe & Save •
50% off WiTouch Pro TENS Units • Save 20% on Gel Pad Refills with Subscribe & Save •
50% off WiTouch Pro TENS Units • Save 20% on Gel Pad Refills with Subscribe & Save •
50% off WiTouch Pro TENS Units • Save 20% on Gel Pad Refills with Subscribe & Save •
50% off WiTouch Pro TENS Units • Save 20% on Gel Pad Refills with Subscribe & Save •
50% off WiTouch Pro TENS Units • Save 20% on Gel Pad Refills with Subscribe & Save •
50% off WiTouch Pro TENS Units • Save 20% on Gel Pad Refills with Subscribe & Save •
50% off WiTouch Pro TENS Units • Save 20% on Gel Pad Refills with Subscribe & Save •
50% off WiTouch Pro TENS Units • Save 20% on Gel Pad Refills with Subscribe & Save •
50% off WiTouch Pro TENS Units • Save 20% on Gel Pad Refills with Subscribe & Save •
50% off WiTouch Pro TENS Units • Save 20% on Gel Pad Refills with Subscribe & Save •
50% off WiTouch Pro TENS Units • Save 20% on Gel Pad Refills with Subscribe & Save •
50% off WiTouch Pro TENS Units • Save 20% on Gel Pad Refills with Subscribe & Save •
50% off WiTouch Pro TENS Units • Save 20% on Gel Pad Refills with Subscribe & Save •
50% off WiTouch Pro TENS Units • Save 20% on Gel Pad Refills with Subscribe & Save •
50% off WiTouch Pro TENS Units • Save 20% on Gel Pad Refills with Subscribe & Save •
50% off WiTouch Pro TENS Units • Save 20% on Gel Pad Refills with Subscribe & Save •
50% off WiTouch Pro TENS Units • Save 20% on Gel Pad Refills with Subscribe & Save •
50% off WiTouch Pro TENS Units • Save 20% on Gel Pad Refills with Subscribe & Save •
50% off WiTouch Pro TENS Units • Save 20% on Gel Pad Refills with Subscribe & Save •
50% off WiTouch Pro TENS Units • Save 20% on Gel Pad Refills with Subscribe & Save •
50% off WiTouch Pro TENS Units • Save 20% on Gel Pad Refills with Subscribe & Save •
50% off WiTouch Pro TENS Units • Save 20% on Gel Pad Refills with Subscribe & Save •
50% off WiTouch Pro TENS Units • Save 20% on Gel Pad Refills with Subscribe & Save •
50% off WiTouch Pro TENS Units • Save 20% on Gel Pad Refills with Subscribe & Save •
50% off WiTouch Pro TENS Units • Save 20% on Gel Pad Refills with Subscribe & Save •
50% off WiTouch Pro TENS Units • Save 20% on Gel Pad Refills with Subscribe & Save •
50% off WiTouch Pro TENS Units • Save 20% on Gel Pad Refills with Subscribe & Save •
50% off WiTouch Pro TENS Units • Save 20% on Gel Pad Refills with Subscribe & Save •
50% off WiTouch Pro TENS Units • Save 20% on Gel Pad Refills with Subscribe & Save •
50% off WiTouch Pro TENS Units • Save 20% on Gel Pad Refills with Subscribe & Save •
50% off WiTouch Pro TENS Units • Save 20% on Gel Pad Refills with Subscribe & Save •
50% off WiTouch Pro TENS Units • Save 20% on Gel Pad Refills with Subscribe & Save •
50% off WiTouch Pro TENS Units • Save 20% on Gel Pad Refills with Subscribe & Save •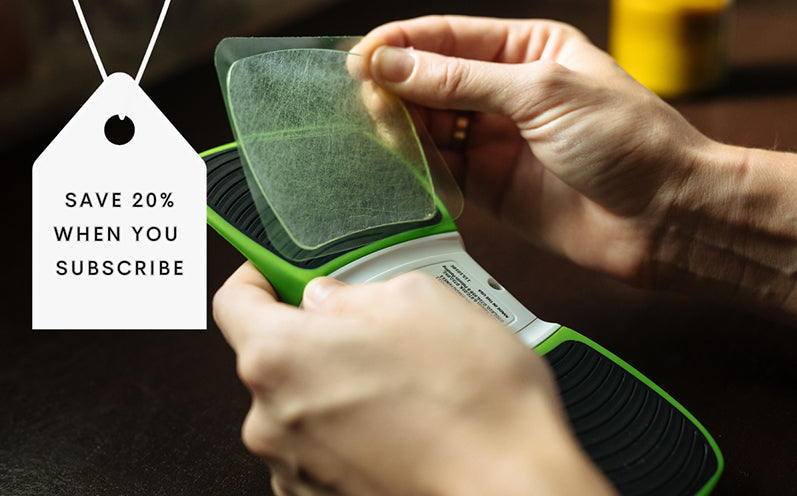 Never Run Out of Gel Pads Again
Select SUBSCRIBE & SAVE when shopping Gel Pads. Click the button below to learn more!
Shop Gel Pads
Made in the USA
Hollywog is a medical device company based in Chattanooga, Tennessee, that is dedicated to improving the quality of life for people suffering from pain.
About Us
Purchased a Second Unit
"When Hollywog introduced the WiTouch Pro TENS unit it was a game changer!"

Jack S
Been a GODSEND
"Thanks for your amazing customer service! My wife loves her Wi Touch Pro."

Keith P
Helped Me So Much
"I place in the middle of my back as high on my shoulders as it will hold."
Dee
Best Decision
"This is my first time trying a TENS device, and it's the best decision of my life to try it."

Mars C
Sturdy & Comfortable
"It's sturdy and comfortable, and pairs easily with my phone."
MJ M
Moving More Freely
"I love that the cycles run 30 minutes and can be repeated during the day."
Patty G
Easy to Travel With
Being cordless makes it much easier to use! Easy to pair with Bluetooth.

Thomas
Ordered for My Husband
The pain meds weren't helping. Once he started using this, he started getting his movement back.

L Mary
Looking For Made in USA
Just got mine in and it's helped back/neck pain noticeably after first use!

Erik
Hollywog Works in Association With These Partners